Are you looking for a healing tonic or digestive aid?
Whether you're looking for a healing beverage or comforting drink, here's a delicious, healing ginger tea recipe that covers you on all these fronts.
This tea takes me back to my childhood. My parents urged us to drink it every time we got sick. Sometimes I crave the sweet, lemony, spiciness that warms you from the inside out. This tea is wonderful on a cold fall or winter evening, but I drink it all year round to stimulate digestion and because of it's great anti-inflammatory and anti-microbial properties.
And, it's so easy to make. All you need is a knob of fresh ginger root, a lemon, some honey, and water.
The Benefits
All of the ingredients in this ginger tea recipe have wonderful benefits for your health.
The benefits of ginger are widespread. Ginger has anti-inflammatory properties, promotes good digestion by soothing the intestinal tract, promotes good motility, increases the production of bile, and is useful in easing nausea.
Lemons are loaded with vitamin C and a variety of other vitamins and minerals. They are antibacterial and help ward off unwanted pathogens. Lemons boost liver function, metabolism, and digestion.
Raw honey is antibacterial, anti-inflammatory, and antifungal and is what makes this tea so delicious. I've had it without honey and it's a much more exhilarating experience!
It's important to use fresh ginger and lemon in this recipe to get the most health benefits from this comforting beverage
Fresh Ginger Tea Recipe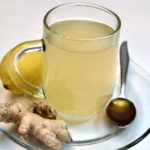 Print Recipe
Ginger, Honey, & Lemon Tea
Drink this invigorating and lovely tea for all the powerful anti-inflammatory properties or to boost your digestion. You can also drink it with the onset of cold or flu symptoms.
Ingredients
3-4

inches

ginger

grated or finely chopped

4

cups

filtered water

1

lemon

2

teaspoons

raw honey

organic is best
Instructions
Add ginger and water to a medium saucepan and bring to a boil

Reduce to a simmer for 10 minutes

Remove from heat and strain into cups, tossing the solids

Add honey and lemon to taste
Notes
I like this tea strong, but you can always adjust the amount of ginger, honey, and lemon to your liking.
Are you looking for other homemade medicinal tonics? Here's an easy, homemade elderberry syrup recipe. You can also try this homemade vegetable broth that's loaded with vitamins and minerals or this chicken broth recipe as the base for a nourishing meal.
I hope I've inspired you to add fresh ginger tea to your medicinal food cabinet. It's soothing, nourishing, and great for both digestion and it's anti-inflammatory, antioxidant, and antimicrobial properties. With this many amazing benefits, it's a must-have, especially through the fall and winter months.
So, cozy up with a good book and a warm cup!