Chicken Broth Recipe
Homemade chicken broth is a huge thing in the health and wellness space right now. And for good reason. There are gut-healing properties in bone broth, and it's especially good for the lining of the gut.
Use this chicken broth recipe and make your own homemade chicken broth using the bones from a whole chicken.
I highly recommend using good quality bones from chickens (or cows) to get the most benefit and leave out excess toxins in your broth. You will get the most from bones that are humanly certified and raised using organic practices.
If you prefer to use beef bones to make broth, check out this bone broth recipe. And, here is a vegetable broth recipe made from leftover veggie scraps.
My husband likes to roast a whole chicken and add it to several meals over the week. When you're done with the chicken, simply add the chicken bones/ carcass to your pot with some veggies and spices to make a healing bone broth.
We like to use our Instant Pot to make broth, as it drastically cuts down on the time and attention that the broth needs. This recipe takes about 1 1/2 hours total with the instant pot. On the stovetop, it takes about 24 hours to make. For that reason, I'm focusing on the Instant Pot preparation in this post.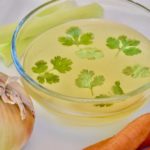 Print Recipe
Homemade Chicken Broth Recipe
Make this homemade chicken broth in only a couple of hours in your Instant Pot. Drink it on it's own or use it as a base for soups, or to cook rice, beans, or veggies.
Ingredients
1

Chicken carcass

from a butcher or a whole chicken

2

Tablespoons

Apple cider vinegar

1

Tablespoon

Sea salt or Himalayan salt

2-3

Whole carrots (skin, ends, and all)

chopped in large chunks

2-3

Whole celery stalks

chopped in large chunks

1

Whole onion

chopped in large chunks

1

1 sprig fresh rosemary, thyme, or oregano

or other fresh or dried herbs

10-12

Cups

Filtered water

Fill to the 10 cup line
Instructions
Put whole chicken carcass into the Instant Pot

Add veggies, herbs, salt, vinegar, and water.

Cook on "manual" for 1 hour and 15 minutes. Allow it to naturally release or quick release if you're short on time.

Remove carcass and strain the liquid into quart glass canning jars for up to 5 days or use for cooking right away. If you prefer, you can freeze for up to 2 months.
Try out this chicken broth recipe and see for yourself how easy it is to make your own bone broth.
If you like this post and want more healthy and delicious recipes, sign up for my email list on the form below, so you don't miss a thing. You'll also get my free downloadable, gut health guide. I look forward to connecting with you more!