Have you ever tried to make your own vegetable broth?
Here's an easy and practical vegetable broth recipe to make in your instant pot in less than an hour or on the stovetop in just a few hours.
Making your own broth will allow you to take in all the amazing minerals and vitamins and leave behind the preservatives and additives found in store-bought broth. And it will save you money!
Using your veggie scraps to make broth will save you money and make the most of your vegetables. You can create a healing mineral broth that will boost your health.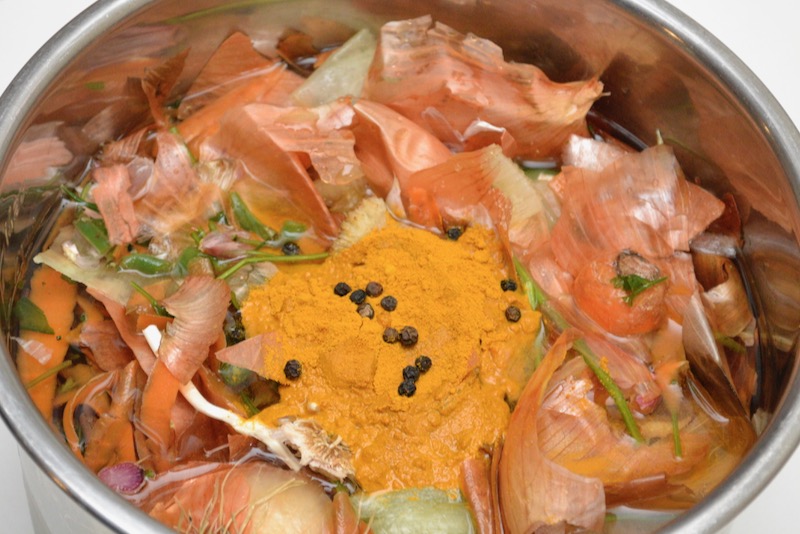 Here's How To Make This Vegetable Broth Recipe
Set aside your scraps for soup when cooking and simply add them to a bag in your freezer.
The scraps of carrots, celery, onion, garlic, parsnips, radishes, mushrooms, greens, or herbs like cilantro or parsley stems are all good additions. Potatoes may make the broth starchy, but some people like to add regular or sweet potatoes. Some people like to add in zucchini and peppers, but these may also give the broth a bitter flavor.
If you don't do well with eating nightshades, it's probably best to leave out peppers, tomatoes, and potatoes.
Leave out vegetables in the cruciferous family (kale, broccoli, cabbage, brussel sprouts, etc.) as these tend to make the broth bitter. Never add in scraps that are going bad.
When your bag is full, simply take it out of the freezer and empty the contents into your instant pot. Add sea salt, black peppercorns, turmeric, and a bay leaf. Fill to the 10 cup line with filtered water. Voila, you have a healthy homemade vegetable broth that can be used as a base for soups or to cook grains, beans, or vegetables.
If you prefer a meat-based broth, try this chicken broth recipe or this beef bone broth recipe.
To get more great recipes and gut health tips, sign up for my email list on the form below this post. You'll also get my free, downloadable gut health guide. I'd love to connect with you more!
Print Recipe
Homemade Vegetable Broth
Try this recipe for vegetable broth in your instant pot or on the stovetop, using up your leftover veggie scraps to make a healing mineral broth base for your homemade soups.
Ingredients
1

Gallon bag full

Vegetable and herb scraps

Onions, garlic, carrots, celery, zuccini, radishes, cilantro, or parsley stems.

1

Tablespoon

Sea salt or Himalyan salt

1

Tablespoon

Ground Turmeric

5-10

Whole

Peppercorns

10

Cups

Filtered Water

Fill to the 10 cup line on your instant pot. or fill 1 inch above your scraps in a pot on the stove.
Instructions
Save your vegetable scraps in a Freezer bag until you have a gallon bag full.

Empty veggie scraps into your pot (either the instant pot or a soup pot on the stove) with the salt, turmeric, peppercorns, and water.

Set Instant Pot on Manual for 35 minutes. For stovetop broth, cook on Medium-low for at least 3 hours.

Turn off the Instant Pot and allow to naturally release. If you're short on time, a quick release is fine too. For stovetop, turn off broth and remove from heat.

Allow it to cool enough to strain the liquid from solids and dispose of the scraps, reserving the liquid for cooking. Using a fine mesh strainer will remove the most solids, but a colander can work just fine too.

I like to either use it right away or store in quart canning jars in my fridge for up to 1 week. This broth will keep in the freezer for up to 2 months.