Need a New Healthy Smoothie?
With the hot weather that we finally got in the Pacific Northwest, I've had smoothies on my mind. In fact, I've made this healthy smoothie recipe for breakfast almost every day this week!
Smoothies can be cooling, satisfying, and nutrient-dense if made properly. You can find a gazillion healthy smoothie recipes out there, and here's why I like this one over many others.
1) It's Versatile
You can use this recipe as a base and add a variety of ingredients to make it your own.
A tablespoon or two of nut butter or organic protein powder (grass-fed collagen is the easiest to digest for most people) will amp up the protein content.
Substitute or add cherries, mango, peaches, strawberries, or pineapple.
Milk thistle will support the liver, an essential detoxification organ.
 1/4 teaspoon of spirulina or chlorella will increase the nutritional value of this smoothie, exponentially.
Cinnamon or ginger will spice it up, and both support healthy digestion.
Raw cacao provides antioxidants and will add a lovely chocolaty flavor. My kids love cacao mixed with banana and nut butter.
2) It's Full of Nutritious Ingredients
This healthy smoothie recipe has kale, carrot, blueberries, bananas, almond milk, and chia seeds for a variety of health benefits to power up your morning. As a digestive health coach, I'm always thinking of the effects of each ingredient on digestive and overall health.
Here's a brief summary of the ingredients in this recipe.
Kale, Carrots, and Blueberries
Kale, carrots, and blueberries all boost immunity, reduce inflammation, and support healthy digestion. Blueberries and kale also support heart health. They're all good sources of vitamin C, vitamin K, and fiber. Carrots and kale are also good sources of vitamin A.
Bananas
Bananas support motility, digestion, circulation, cardiovascular health, blood pressure, and help to reduce inflammation. I've included only 1/2 of a banana in this recipe because some people don't do well with too much banana. If bananas tend to be a problem for you, you can easily substitute another fruit.
Almond Milk
Almonds support strong bones and teeth, heart health, and healthy cholesterol. They can also aid in weight loss and are a good source of magnesium, phosphorous, vitamin E, and riboflavin.
Chia Seeds
Chia seeds are a great source of healthy, omega 3 fats. They support healthy blood sugar levels, brain function, weight loss, and digestion. Chia seeds that have been soaked for at least ten minutes are a great source of fiber and help to boost motility. They offer a good source of magnesium, phosphorus, iron, and calcium. If you have an oxalate sensitivity, it's best to leave these out or replace with hemp or flax seeds or leave out altogether.
3) It Still Tastes Good!
Even with all the nutrition packed into one small glass in this healthy smoothie recipe, this beverage still has a lovely flavor with a good balance of almond milk, seeds, fruits, and veggies.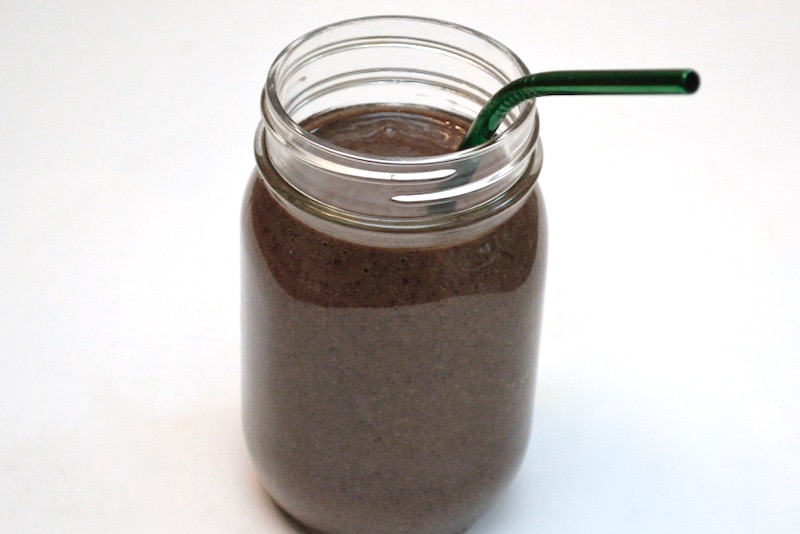 Need to know how to make homemade almond milk? Try out this almond milk recipe. Or are you looking for more nutritious and easy breakfast or snack recipes? Try this chia pudding or these almond butter protein balls.
Delicious, Healthy Smoothie Recipe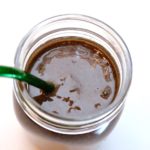 Print Recipe
Healthy Smoothie Recipe
This healthy smoothie is versatile, nutritious, and tasty. Make this for an easy breakfast or snack by personalizing it to meet your health needs. Add a variety of fruit, protein powder, nut butter, or super foods to make it your own.
Ingredients
2

cups

Non-dairy milk (almond or coconut are my favorite)

Read labels if using store-bought milk. Use nut-free milk if you suspect a sensitivity to nuts.

1

cup

blueberries

Fresh or frozen

1/2

banana

Fresh or frozen (replace with other fruit if you don't digest banana well)

2-3

small-medium

kale leaves

washed and torn into large pieces

2

scoops

grass-fed collagen protein

Can also replace with organic hemp or pea protein
Optional:
1

TBL

chia seeds

Can replace with hemp or flax seeds

1

peeled

carrot

Cut into large chunks

Other berries or fruit

Fresh or Frozen
Instructions
Add all ingredients, except collagen powder to the blender

Blend on high until smooth

Turn off blender and add collagen powder

Blend on low until the collagen is mixed in well

Pour and enjoy immediately or save for an easy snack (best if consumed on the same day)
Notes
You can substitute a variety of other fruits or add in 1-2 tablespoons nut butter,  a scoop of protein powder, 1-2 teaspoons of raw cacao p0wder, or other superfoods to make this smoothie fit your personal taste and health needs.
If you want your smoothie sweeter, increase to a whole banana.
If you want it thinner, add more almond milk or water.
A high-speed blender will work best to make this recipe smooth.