Do you need a new, quick, and easy snack?
Here's a banana, chocolate chia pudding recipe that delivers on both flavor and texture.
Chia pudding is an easy, nutritious, and delicious snack or quick, grab-and-go breakfast. This snack is a great replacement to help crowd out more sugary and preservative loaded snacks.
The ingredients in this pudding have many benefits for your gut and overall health.
Chia Seeds
Chia seeds are full of fiber, healthy fats, and protein. They are also a good source of magnesium, phosphorus, calcium, and iron making them a great addition to your diet. Chia seeds can help to support good motility when soaked for at least 10 minutes. In any chia pudding recipe, you'll have to soak the seeds more than that to get the right consistency.
Cacao
Raw chocolate, or cacao, is high in antioxidants and a good source of magnesium, iron, manganese, and fiber. Cacao supports your digestion, mood, bones, and heart health. And.. it tastes amazing. Did you know that raw chocolate was so good for you?  When it's naturally sweetened like this, you can eat it up guilt-free!
Almond Milk
Almonds offer a delicious base for this yummy snack, along with healthy fats and protein. Almonds support heart health and are an excellent source of magnesium, riboflavin, and vitamin E as well.
You can easily sub out other creamy and delicious non-dairy milk in this recipe, such as coconut or cashew milk. Watch out for added sugars and preservatives if using store-bought milk.
Banana
Bananas are used to sweeten the pudding and add a great flavor in combination with vanilla, cinnamon, and cacao. They support healthy digestion and motility and are a good source of vitamin C, B vitamins, fiber, and potassium.
Cinnamon
Cinnamon adds a little spice to the pudding. It helps to support healthy digestion, balanced blood sugar levels, good circulation, and heart health. It also helps to curb cravings and is a good source of manganese.
These ingredients in combination, offer a wide variety of benefits to your health… AND taste amazing together.
Vanilla Variation
You can also make this recipe without the cacao powder and have vanilla chia pudding which tastes amazing with fresh blueberries.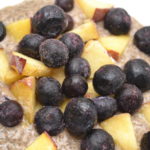 Print Recipe
Chia Pudding
This banana, chocolate, chia pudding is naturally sweetened and full of healthy fats, fiber, and protein. You can make it in advance and have it on hand for an easy snack or breakfast.
Ingredients
2

cups

almond milk

1

small- medium

banana

ripe, but not too ripe

1

tsp

pure vanilla extract

1/2

tsp

cinnamon

1-2

tsp

raw cacao powder

1

pinch

sea salt

can also use Himalayan salt

1/2

cup

chia seeds

just under a half cup is my preference (see notes below)

fresh or frozen fruit

frozen blueberries and peaches are what I used here
Instructions
Add all ingredients, except the chia seeds, to a blender and blend until smooth.

Pour blended ingredients into a bowl and whisk in whole chia seeds until well combined.

Put the pudding in the refrigerator for 10-15 minutes, then take out and whisk until it's smooth throughout. Make sure there are no clumps of chia seeds remaining.

Let stand for another 10 minutes allowing the seeds to absorb more moisture.

Top with your favorite fresh or frozen fruit, serve, and enjoy!

To make vanilla chia pudding, simply leave out the cacao powder.
Notes
I make a double batch and put in 3/4 cup chia total. If you're making a single batch and want a little less, you can go a tablespoon shy on your half cup.
For a low glycemic or low FODMAP sweetener, you can use 1/2 a teaspoon of stevia. You can also sub monk fruit to taste.
I like to portion the pudding into half-pint jars with fruit on both the bottom and top of the pudding. Then they're ready for a grab-and-go snack.
You can experiment with different fruits. My family likes cherries, blueberries, and peaches the best. These fruits seem to do well if they were frozen as well.
This recipe is versatile. For vanilla chia pudding, you can omit the cacao powder. You can use a different non-dairy milk (coconut and cashew are good alternative options). You can top with nuts, seeds, coconut flakes, granola, or cacao nibs for a more hearty snack.
For another healthy, grab and go snack, check out these nut and seed protein balls. With a nut butter base, shredded coconut, and nuts and seeds, they are full of protein, fiber, and healthy fats.
Enjoy!