Tom Kha Soup (Thai Coconut Soup)
If you've never had Tom Kha, you've got to try it! This Tom Kha soup recipe is nourishing, delicious, and full of flavor.
I love most Thai food, but this is one of my absolute favorite Thai recipes. When made at home with quality ingredients, it can be health-promoting and offer healing benefits to your digestive system.
Here Are the Key Ingredients for This Tom Kha Soup Recipe
Fresh Ginger
Fresh ginger offers amazing health benefits and provides excellent flavor in this soup. It helps to build immunity, aids in digestion and warms the digestive system, which is important for properly digesting your food.
Lemongrass
Lemongrass is a tropical Asian grass and the lemongrass stalks enhance the flavor of this soup. It offers anti-bacterial, anti-fungal, antioxidant, and anti-inflammatory properties.
Kaffir Lime Leaves
Kaffir limes are native to Southeast Asia and the fruit and leaves are both delicious in cooking. This citrus plant helps with detoxifying the blood, promotes oral health, and stimulates the digestive system. Kaffir lime can help to aid in digestion and relieve constipation.
Coconut Cream
Coconut is full of healthy fats and oils and offers amazing flavor in combination with ginger and lemongrass. It supports healthy weight loss, mental function, and immunity.
This recipe is delicious and packed full of flavor, nutrients, vitamins, and minerals. The ingredients above in combination with an assortment of vegetables, chicken, and homemade chicken bone broth, make a satisfying and warming soup.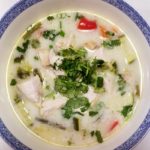 Print Recipe
Tom Kha Soup Recipe
This delicious coconut soup is super healing and makes a filling and nourishing meal. The lemongrass mixed with coconut and ginger is a heavenly combination
Ingredients
8

cups

chicken broth

2

lemongrass stalks

crush with a large knife until they break open, but not so much that they fall apart

5

slices

fresh ginger root

1

can

coconut cream

2

kaffir lime leaves

1

red bell pepper

cut into medium-sized chunks

1

medium

zucchini

or 2 small zucchini, sliced

1

large

carrot

or 2 small carrots, sliced

6

crimini mushrooms

cut into big slices

1/3

pound

green beans

cut into bite-sized pieces

1

baby bok choy

cut into large bite-sized chunks

3/4 to 1

pound

chicken breast

baked and diced into bite-sized pieces

1-2

TBL

fish sauce

season to taste

2

TBL

fresh lime juice

season to taste

Small handful

fresh cilantro

chopped

2

green onions

green part only
Instructions
Heat broth, lemongrass, and ginger and let it come to a boil.

Add coconut cream, veggies, and kaffir lime leaves and turn down to a simmer. Cook until tender but still vibrant (be careful not to overcook or it won't be as good!).

A few minutes before the veggies are done, add cooked chicken breast.

Once veggies are done, remove from heat and add fish sauce, lime juice, cilantro, and sliced green part of green onions.

Serve and garnish with cilantro and green onions.
If you'd like more delicious, gut-friendly recipes like these, subscribe to my email list by clicking here or signing up for the free guide below.
Or, check out The Go With Your Gut Podcast to learn more about how to heal your digestion and regain your energy so you can stress less and enjoy your life more.