Cashew Ricotta
This cashew ricotta is a perfect replacement for ricotta cheese in lasagna, manicotti, and stuffed shells. Whether you're dairy intolerant or not, this cashew "cheese" has great flavor and is a crowd-pleaser.
A family friend introduced me to cashew ricotta a few years ago when she made a beautiful zucchini lasagna with fresh veggies from her garden. It was heavenly. At the time I was obsessed with making cashew cheese dip and had toyed with fermenting hard cashew cheese (which is much more difficult!), but I'd never tried cashew ricotta. Her lasagna was so good, and I've been making it ever since.
Ingredients
This recipe is super easy, made up of only a handful of ingredients, and packed full of healthy fats, proteins, vitamins, and minerals. Here are a few benefits of the ingredients in this dip.
Cashews are a good source of magnesium, iron, zinc, phosphorus, and vitamin K. They support a healthy brain, heart, bones, and blood.
Lemons brighten up this recipe and offer a multitude of health benefits as well. They help to boost immunity, decrease inflammation, promote detoxification, and are full of vitamin C.
Extra virgin olive oil is full of healthy, monounsaturated fats. These fats support a healthy heart and good cholesterol levels. Olive oil is also known to help reduce inflammation and promote weight loss.
Combined you get a healthy "cheese" that you can enjoy completely guilt-free!
How To Make Cashew Ricotta
First, soak the cashews for a couple of hours, allowing the cashews to absorb the water and plump up. Soaking increases your ability to digest the cashews. If you need a quick soaking method, pour boiling water over the cashews and let sit for 10 minutes.
Then, simply add the cashews lemon, olive oil, and salt to the blender and blend until smooth. You made need to scrape down the sides of the blender and use the tamper to get a smooth finish on this cheese. That's it; now you've got a delicious cashew ricotta cheese!
Ways To Use This Cashew Cheese
I like to use this ricotta in zucchini noodle lasagna, but it's delicious with lasagna noodles of any kind, manicotti, or stuffed shells. To make the lasagna completely vegan, you can use the cashew ricotta in between the noodles and in big dollops on top instead of melting mozzarella cheese.
Zucchini Lasagna
To make a zucchini lasagna, slice the zucchinis long and wide and layer the zucchini "noodles," sauce, cashew ricotta, mushrooms, spinach, and chopped fresh basil. Then top the lasagna with dollops of the cashew cheese and bake on 350 until the noodles are to your liking and the ricotta on top starts to brown slightly. Serve with a green salad on the side for a delicious vegan meal. 
Fruit Dip
The other way I like to use this ricotta is to sweeten it with honey or pure maple syrup, sprinkle cinnamon on top, and use it as a fruit dip or spread on fresh bread for a sweet treat. It's great for dipping apples, grapes, or pears and enjoy a fruit and "cheese" platter with a glass of organic wine.
If you're anything like me, once you start making cashew cheese you won't want to stop! It's a staple in our family and serves a variety of purposes in our meals and snacks.
Check out this recipe for herbed cashew cheese dip for another variation on cashew cheese that's great with veggies or crackers or can be used as a cheese or sour cream substitute on tacos, enchiladas, sandwiches, or eggs.
I hope you enjoy your cheese! If you want more healthy recipes like this one, sign up for my email list by clicking here or filling out the form below this post (you'll also receive a free guide on ways to improve your gut health by filling out the form below)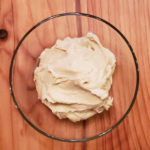 Print Recipe
Cashew Ricotta Cheese
I use this easy cashew cheese to replace the ricotta in my zucchini (or gluten-free noodle) lasagna, but it would be great in manicotti or stuffed shells as well. I like to slice zucchinis long and wide and layer with sauce, cashew cheese, mushrooms, spinach, and chopped fresh basil. Then I top the lasagna with dollops of the cashew cheese and bake until noodles are soft. Serve with a green salad on the side for a delicious meal!
Ingredients
2

cups

Raw Cashews

2

Tablespoons

Extra Virgin Olive Oil

1

Fresh Lemon

1

teaspoon

Himalayan or Sea salt

1/4 cup

Filtered Water
Instructions
Soak cashews for at least 2 hours, then rinse and drain. For a quick soaking method, pour boiling water over cashews and allow to the cashews to soak and plump up for 10 minutes.

Blend all ingredients in blender or food processor until smooth adding water to adjust the consistency. A high speed blender will help you get the smoothest consistency.
Notes
Alternatively, this cashew cheese makes a great fruit dip. Add a little honey or maple syrup and serve with your favorite dipping fruits.