Have You Ever Thought of Trying Cashew Cheese?
If you haven't this cashew cheese recipe is so good! It's made with fresh herbs and makes a delicious dip or spread for veggies, apples, crackers, toast, sandwiches, or eggs.
It can add protein and flavor to a variety of savory dishes, including eggs and tacos. Many people have dairy intolerances and don't digest milk well. If this is you, cashew cheese is an amazing substitution.
There are good, organic cashew cheeses that you can buy (I'm thinking Miyokos cheeses). But for some variety and to save some bucks, this cashew cheese recipe is an easy and delicious substitute.
Not to mention that it's also super healthy! If you tolerate cashews well, this cashew cheese is a perfect addition to a well-rounded, healthy diet. Made from a variety of health-promoting whole foods, the ingredients come together beautifully to offer a robust, savory flavor.
Ingredients
Cashews
Cashews make an excellent replacement for dairy and a good addition to a healthy whole food diet, as long as you tolerate them well. Some people have intolerances or allergies to cashews, so as with any food notice how you feel after you eat it.
Cashews are a great source of healthy fats and protein, making them a perfect snack. They promote healthy bones, blood, and heart, and can help to support good brain function. They are an excellent source of magnesium, and also contain other vitamins and minerals including iron, phosphorus, zinc, and vitamin K.
Lemons
This cashew cheese recipe calls for fresh lemon juice, which really enhances the flavor of the "cheese".
Lemons help to boost immunity and promote healthy detoxification by supporting your detox organs. Lemons can aid in healthy weight loss, and also help to decrease inflammation in the body. In addition, they are a great source of vitamin C.
Apple Cider Vinegar
Apple cider vinegar also helps to brighten up this cashew cheese recipe and adds and additional zing to the dip. Unfiltered apple cider vinegar "with the mother culture" inside (it'll actually say that on the bottle) offers the benefits of fermented foods including healthy probiotics and enzymes.
Apple cider vinegar can help in supporting healthy blood sugar levels, skin, cholesterol, blood pressure, and weight loss. It's also can help to boost your immunity. It can aid in digestion and can be helpful in relieving the symptoms of acid reflux, as well. With all of these benefits, apple cider vinegar is an amazing ingredient to include in your diet.
Nutritional Yeast
Nutritional yeast is what makes this recipe taste "cheesy" and delicious. If you don't do well with yeast, you can make this recipe without it, but it really packs a lot of punch as far as the flavor of this recipe goes.
It's a good source of B vitamins, which are often deficient in our modern, western diet especially for those that eat vegan or vegetarian. Nutritional yeast is a good source of fiber and protein and can help support your neurological health, as well as healthy weight loss.
Fresh or Dried Herbs
This cashew cheese recipe suggests a variety of herbs to enhance the flavor. Each one will give a slightly different flavor profile, making this one recipe with a lot of options.
Herbs add amazing nutritional benefits and they often offer anti-microbial and anti-inflammatory properties. They can help to soothe uncomfortable gut symptoms, promote balance in the bacteria in your gut, and generally promote your health in a variety of ways.
How to Make This Cashew Cheese Recipe
Even though this recipe has a decent amount of ingredients, it's super simple to make.
First, soak the cashews for at least a couple of hours (I often soak them overnight). After that, you combine all the ingredients in a blender and blend until smooth.  A high-speed blender will give the best results if you want a smooth cashew dip. Garnish and serve with veggies or crackers for a quick snack or add to toast, sandwiches, or tacos in the place of  (or in addition to) cheese.
As you can see, this cashew cheese is so good for you. It's absolutely delicious too and can be a great addition to or substitution for dairy in your diet.
Once you're turned on to cashew cheese, you'll find there are so many ways to make cashews into "cheese" for dipping, dressings, sauces, or to add as a cream in soups and curries. Check out this cashew ricotta recipe for another variation on cashew cheese. My favorite way to use this ricotta is to replace the ricotta in a vegan lasagna and a number of other Italian dishes.
If you enjoyed this post, are excited about cashew cheese (wahoo!), and want more gut-friendly recipes and tips, sign up for my email list on the form below this post. You'll also get a free guide on how to improve your digestion and gut health.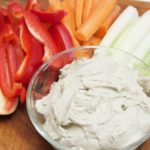 Print Recipe
Delicious Cashew Cheese with Fresh Herbs
This cashew cheese recipe makes a delicious dip or spread for a variety of savory foods. You can use it to dip veggies, apples, or crackers. Or as a cream cheese substitute on toast or sandwiches. It also is a great addition to Mexican food such as tacos or enchiladas. Get creative and this cheese can be used as a dairy substitute in a variety of dishes.
Ingredients
1

cup

raw cashews

soaked for 2 hours or overnight

1

small

lemon worth of juice

fresh-squeezed is best

2

tsp

apple cider vinegar

2-3

TBL

nutritional yeast

1

tsp

onion powder

2

cloves

garlic

minced

1/2

tsp

sea salt or Himalayan salt

Fresh ground black pepper

to taste

Fresh herbs (2 tsps chives, dill, or basil, or any combination of herbs that you like)

plus fresh herbs to garnish
Instructions
Rinse and drain soaked cashews

Add the cashews to a blender with all the other ingredients and blend until smooth

Remove from the blender with a silicone spatula

Garnish with fresh ground black pepper and fresh herbs and serve with fresh fruit, veggies, or crackers.
Notes
If you want a smooth consistency, a high-speed blender works best. If you don't have a high-speed blender, be sure to mince the garlic and finely chop the herbs.
You can substitute dried herbs in this recipe if needed or desired.
This dip is great as a cream cheese or sour cream replacement and is good with eggs, tacos, enchiladas, sandwiches, toast, and a variety of other savory dishes.