This Chimichurri Sauce Recipe Is So Good!
My family loves this sauce and we put it on everything… from eggs to tacos to salad to meats and the list goes on. We make a quick batch and it brightens up our favorite savory dishes throughout the week.
Benefits of Chimichurri Sauce
Cilantro
Cilantro and parsley both have amazing healing benefits for the body including cleansing and detoxifying properties. I'm a big believer that it's necessary in today's toxic world to build daily and weekly cleansing practices into your lifestyle. Including these yummy herbs is a great place to start.
For more great tips on successful cleansing check out this post.
Cilantro helps to rebalance candida in the gut, which is a fungus that when out of balance can contribute to digestive and other health challenges. Cilantro also helps to reduce inflammation in the body.
Parsley
Parsley helps to reduce inflammation, provides antioxidants, and is a good source of vitamin C, K, and A. It helps to aid in digestion and has antibacterial and antifungal components.
Extra Virgin Olive Oil
Olive oil is known to reduce inflammation and support weight loss, healthy cholesterol, and a healthy heart. Olive oil contains monounsaturated fats which are a necessary component of a healthy diet. To get the most of these healthy fatty acids use organic, extra virgin, cold-pressed olive oil.
Lemons
Lemon is also known to support detoxification, weight loss, and immunity. Lemons also help to reduce inflammation and are an excellent source of vitamin C.
Garlic
Garlic is anti-microbial and is essential for flavor in this sauce. It also helps to boost detoxification, immunity, heart health, and healthy blood pressure.
Good Quality Salt
Quality salt is full of important trace minerals and electrolytes necessary for many important functions in the body, including good digestion. Use pink Himalayan salt or sea salt to get the most benefit.
If you make your chimichurri in the food processor it will look more like this. Both ways are good, so try them both and see what you like best.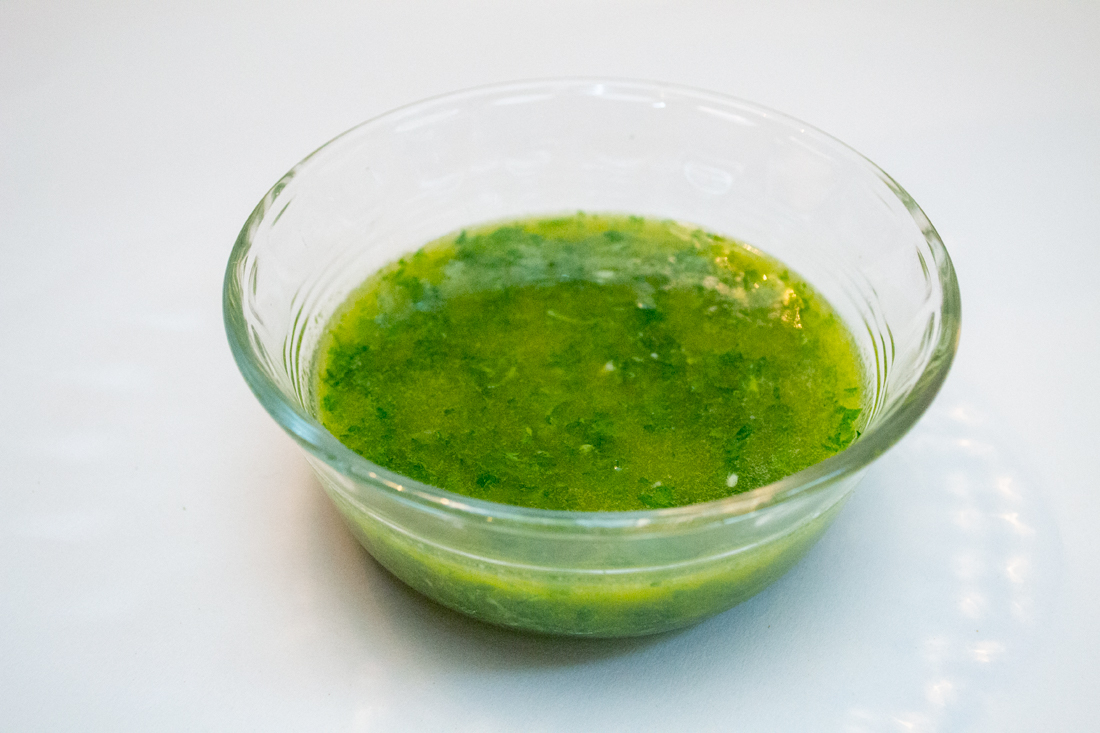 Substitutions:
You can add or substitute different fresh herbs and play with how much lemon juice you add.
In place of citrus, some people make chimichurri with vinegar – we've done it with red wine vinegar with good results.
Try this chimichurri sauce recipe and all of the amazing benefits that come along with it.
If you like this post, subscribe to my email list by signing up for my free gut health guide on the form below. I'd love to share more gut-friendly recipes and tips with you!
Chimichurri Sauce Recipe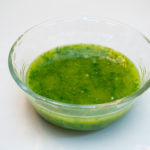 Print Recipe
Cilantro, Parsley Chimichurri Sauce
Ingredients
½ - 3/4

cup

Olive oil

Adjust the amount depending on how liquid you want it. If you have a salicylate sensitivity, replace with organic, cold-pressed sunflower oil or another low salicylate oil.

1

tablespoon

Fresh lemon juice

Can replace with red wine vinegar

Handful of cilantro

Big handful of parsley

About twice as much as the cilantro

3/4

teaspoon

Himalayan or sea salt

Add more to taste

3

cloves

Garlic

Leave out if you don't tolerate garlic well.

Black pepper to taste

Leave out if you have a histamine intolerance
Instructions
In the blender or food processor, combine all ingredients except olive oil and pulse or blend until finely chopped.

Slowly add in olive oil and pulse or blend on low until smooth.
Notes
You can easily mix this recipe up with different herbs, vinegars, or citrus juices. We choose to use parsley and cilantro because they both have cleansing benefits for the body.
This is freshest and best in the first few days, but will last up to 5 days in the fridge.